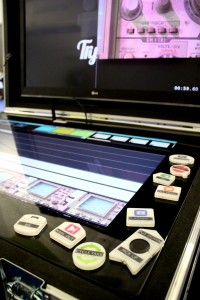 Working with the TryLife independent film company, I developed a tool to support new-actors within the complex environment of a film shoot. Specifically the system approaches the challenges in branching narrative production, which introduces much complexity for crew and cast in terms of continuity and characterization.
The system consists of a large multi-touch and tangible display mounted in a rugged form-factor case. This is taken on location and setup alongside other on-site equipment. Crew are encouraged to engage with the interface which provides various methods of viewing footage directly from the shoot in near-real-time. Simple editing, tagging and playback are supported through physical interaction with the interface.
Two long film-shoot deployments of TryFilm with the company has led to further understanding of complex situated production environments and how new-interface technologies such as tangibles and multi-touch can be leveraged for both collaborative and single-user interaction with film media.
Technologies
Custom built Pixelsense based technology platform
WPF / dotNET