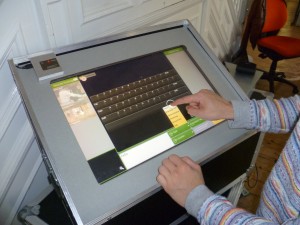 ProductionCrate is a suite of technology tools that support delivering a media rich academic conference by using non-professional stakeholders as members of a distributed production team. A variety of mobile, situated and web-based technologies work in synergy to capture, edit, tag route and display video, Tweets, conference proceedings and event information.
The platform was deployed during DIS and Pervasive 2012 as an in-the-wild experiment, and included video capture of all venues, interactive multi-touch displays in break-out spaces, scrolling displays on podiums and touch-screen editing bays in the site-office.
This project forms the basic understanding of this type of situated non-professional media environment which has led to a variety of projects including TryFilm, Bootlegger and CitizenRadio.
Technologies
Full webstack/databse backend
WPF / dotNET display engines
WPF mobile applications
Hardware display integration