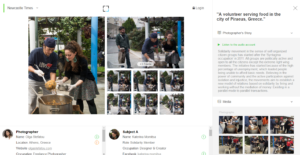 Working in collaboration with World Press Photography Foundation we are developing a de-centralized, rich meta-data store targeted at photo-journalists.
Four Corners and the underlying platform 'Authograph' is a distributed platform for storing rich narratives and metadata about journalistic images.
Authograph provides journalists, photographers and publishers a way of contextualizing their work for a richer reading experience. Additionally, Authograph encourages anyone to add additional metadata about an image. Additional images, personal accounts, local information and technical information can all be added. Critically, Authograph allows each reader to filter metadata presented to them by which sources they trust.
On visiting a publishers site enabled with Authograph, additional metadata is available to view alongside photos. This data is obtained from the Authograph network, and filtered using the readers trust settings. Information on conflicting data, identity endorsements and organisations are displayed to contextualize any information.

Technologies
Blockchain Filestore (IPFS)
NodeJS